ERP : Enterprise Resource Planning
Integrated management software package
An Entreprise Resource Planning software or ERP is a software that enables the management of all the financial flows of an enterprise, by integrating a group of specific functions.
Purchasing, multi-currency
Supplier and transaction management
Catalog of stocks, products, barcodes and VAT selection
Stock management
Returns management (suppliers)
Management of credit notes (suppliers)
Management of open down payments (suppliers)
Sales, multi-currency
Client management with reports
Orders and invoices management
VAT statement in just 3 clicks
Goods returns management (customers)
Credit notes management (customers)
Management of open down payments (customers)
Management of gift coupons (customers)
Choice of salary by trade
Employer's expense management
Insurance documents
Linked to general accounting
Production time/employee management
Planning, counting of hours
MRP (Manufacturing Resource Planning)
Hierarchical production management
Quality management
Choice of production process
Product life cycle
General accounting, multi-currency
Personalised accounts (analytic accounting)
Reports and statistics
Invoice payment (suppliers)
Maturity and amortization management
Budget and graphics
Management of projects/mandates/monetary vision
Follow-up of offers, invoices and incoming payments (customers and suppliers)
Centralised management of customers/suppliers
Storage of documents relating to a current project
Planning management
Our software ERP
Videos :

– Adapted to the needs of artisans or entrepreneurs looking for optimal management, which simplifies recurring processes with automated functionalities.
– Automatic processes save time and provide good visibility.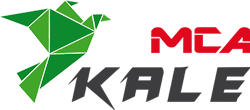 Suitable for large businesses
– Ideal for enterprises having well-defined positions with different levels of access according to user roles.
– More advanced modules such as planning and reporting.
We develop for you :
– A more suitable solution for your structure.
– With specific modules for your working environment.– Communication between your software and MCA Kale.