ERP : Enterprise Resource Planning
Integrated management software package
An Entreprise Resource Planning software or ERP is a software that enables the management of all the financial flows of an enterprise, by integrating a group of specific functions.
Purchasing, multi-currency
Supplier and transaction management
Catalog of stocks, products, barcodes and VAT selection
Stock management
Returns management (suppliers)
Management of credit notes (suppliers)
Management of open down payments (suppliers)
Sales, multi-currency
Client management with reports
Orders and invoices management
VAT statement in just 3 clicks
Goods returns management (customers)
Credit notes management (customers)
Management of open down payments (customers)
Management of gift coupons (customers)
Choice of salary by trade
Employer's expense management
Insurance documents
Linked to general accounting
Production time/employee management
Planning, counting of hours
MRP (Manufacturing Resource Planning)
Hierarchical production management
Quality management
Choice of production process
Product life cycle
General accounting, multi-currency
Personalised accounts (analytic accounting)
Reports and statistics
Invoice payment (suppliers)
Maturity and amortisation management
Budget and graphics
Management of projects/mandates/monetary vision
Follow-up of offers, invoices and incoming payments (customers and suppliers)
Centralised management of customers/suppliers
Storage of documents relating to a current project
Planning management
Our software ERP
Videos :

Our software MCA Colibri :
– Adapted to the needs of artisans or entrepreneurs looking for optimal management, making recurring processes easier for them with automated functionalities.
– Automatic processes save time and provide good visibility.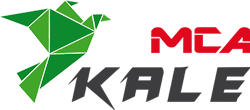 Our software MCA Kale :
– Ideal for enterprises having well-defined positions with different levels of access according to user roles.
– More advanced modules such as planning and reporting.
Our range of specialised software :
– A more adapted solution for well-defined trades. Come and discover the different softwares and their potential applications.
– Specific modules for each profession covered by a software package
Do you have any questions about MCA Concept ?
Would you like additional information about MCA Kale ?
Or simply send us a pertinent remark ?
Please do not hesitate to contact us ! MCA Concept team will take the time to listen to you and respond as soon as possible.