Business software for SMEs
A passion was born
Pietro Bongiovanni loves life. In the early 2000s, the digital era booming inspires the businessman. In 2003, MCA Concept redirected its know-how in the business software development.
MCA Concept is a company that provides simplified solutions for all kind of businesses, from the craftsman to the SMEs. The company gathered a lot of successes very quickly until nowadays.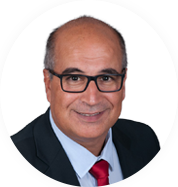 Pietro Bongiovanni
Pietro Bongiovanni holds several Federal Certificates of Capacity. Very quickly, by passion, his activities were redirected into the software programming. He created MCA Multimedia Concept for Advertising in 1996, a period where he innovates in the multimedia. In 2002, he develops an ERP which belongs to Cloud, at that time it was called ASP. Throughout time, a various range of softwares came out to life and this activity keeps growing today under the name of MCA Concept.
A man passionate about human relations, he built international relations for humanitarian aid. A lot of projects came out to life and a team of fifteen people follow him on and off in Europe, in the Eastern countries and in Africa.
Pietro Bongiovanni is involved in Switzerland in several associations, among others the Crelac (Meeting Center for Entrepreneurs of La Côte), from which he is the founding member and, today, the President. The role of this circle is to help entrepreneurs to promote their society while providing punctual formations.
A new generation of CLOUD, MCA-ERP, MCA-CRM and MCA-CMS. Activate the future now is so easy !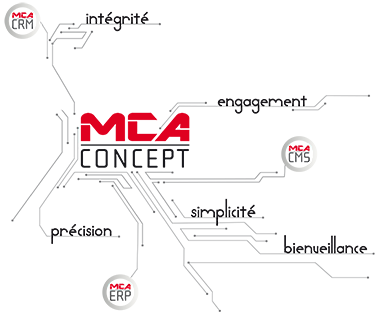 Our ambition
Simplify and synthethize the complexity of administrative management and of communication of your company, so we can assure your success.
The technological evolution constantly in progress that prevails nowadays push societies towards big challenges.
MCA Concept caring and committed partner at your side all along.
Our values
Engagement towards our clients and our employees. Integrity, Precision, Simplicity, and Goodwill in everything that we undertake.
Integrity
The integrity is a central pillar for the protection of confidentiality of your data along the time.
Data is crucial for the company, as much as the management and analysis, in the long term.
The Swiss know-how prevails in the data centers, as much in discretion as in precision, which bring you a stability through sustainability.
Our mission
Editing simplified solutions for administrative management. Grow your company through the new digital era with MCA Concept: it's 100% secure. The experience gained over the years allows us to provide the solution that suits you the best. Today's infrastructure choices imply flexibility for the evolution of the company, which must adapt to the market and also to the new technological tools that are always more efficient and renewed in the actual tech world.
Our vision
Innovation is the core engine of our softwares so we can give answers to the needs and demands of our clients and of the market.
We aim to integrate the new advanced technologies that implies the whole administrative management process, the marketing, data and information flows.