MCA Concept is a developer of optimised solutions for all businesses, from artisans to large companies including SMEs and SMIs.
MCA Concept is made up of a solid team established over time, which gives it the advantage of being efficient and fast in the knowledge of already established tools and in listening to the customer in order to refine requests and requirements.
A multidisciplinary team grants MCA Concept not only development skills but also organisational skills in information flows and processes.
With experience acquired through the multitude of modules developed over the years, MCA Concept remains attentive and on the lookout for trends in a constantly evolving environment.
Proximity and relationship remain an asset of MCA Concept for a fast and adequate service in the requests of our customers.
A passion
MCA Concept provides simplified solutions for all businesses, from artisans to large companies and SMEs. A rapidly confirmed success that is still enduring.
Our team
MCA Concept is a team of collaborators who are passionate about their work and in search of performance as well as simplicity.
Bonded over time, this enables it to respond quickly to our customers' requirements.
Solutions made simple over time
Digital Transition
Simplified solution editions for administrative management Support for the digital transition in complete safety. The experience we have gained over the years allows us to choose the solution best suited to you. Nowadays infrastructure choices imply flexibility for the evolution of the enterprise, which needs to adapt to the market as well as to the evolution of ever more efficient technological tools.
Our vision
Innovation is the driving force behind our management software to meet the needs and requirements of customers and the market.
Integrate new advanced technologies that involve all administrative management processes, marketing and flows of data and information.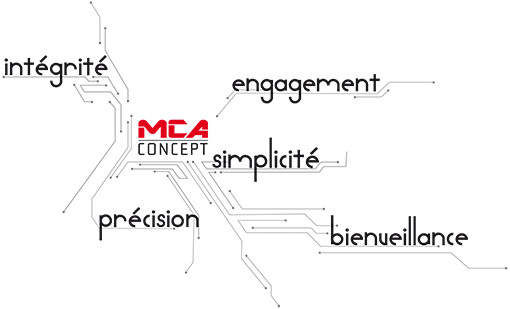 Integrity
Integrity is a central pillar for the protection and confidentiality of your data over time.
Data is crucial for the business, both in management and analysis, in the long term.
Swiss know-how is a must in data centres, both in terms of discretion and precision, guaranteeing you long-term stability.
Engagement
MCA Concept is commited in supporting enterprises:
– In the development of software adapted to the daily needs and data back-up
– A response engagement within deadlines and a daily presence.
– Provide the answers through solutions relevant to your needs.
Simplicity
We are improving our software's ergonomics for more simplicity.
Attentiveness to our customers is reflected in our software, that collaborates and communicates improvements in order to always bring more simplicity.
Precision
Providing data at the right time gives information a value that is not negligible and is important in equal measure to its accuracy.
In time, MCA Concept has developed a strategy to ensure that data is positioned in the right place to ensure more accurate information.
Goodwill
The relationship with our customers evolves over the years.
A relationship based on trust is established, a desire to increase our customers' performance becomes a mark of loyalty to them.
" Simplicity is the ultimate sophistication "
Leonardo Da Vinci
Interview with Pietro Bongiovanni, CEO of MCA Concept, by Le Monde Economique, 16/08/2017.
The MCA concept: Cloud-based, modular and adaptable software packages for enterprises developed in Switzerland. From the cash register to accounting follow-up, via customer and supplier relations, MCA ERP CRM CMS presents a steering centre for the enterprise at affordable prices.