Trade, travel and currency
Since the dawn of time, man has wanted to exchange goods with his fellow human beings, being prepared to travel long distances to do so. Barter was followed by commodity money, then metal coins in Asia Minor in the 7th century BC, banknotes in China in the 11th century, and finally scriptural money from the 17th century.
With the rise of scriptural money, physical money is tending to disappear from our daily use, but a renowned artist has chosen to revive coins and banknotes.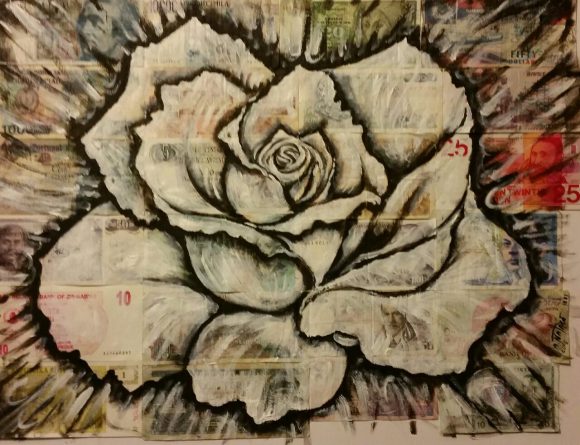 Source: antonionataleartist.com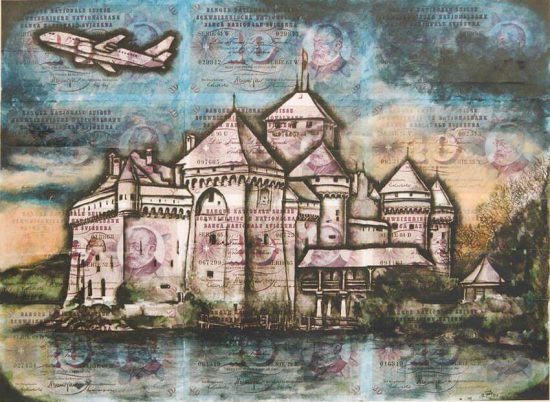 CHATEAU DE CHILLON – 2014
Source: antonionataleartist.com
Antonio Natale, the banknote artist
Born in 1965 in Foggia (Italy), Antonio Natale is the only artist to paint exclusively on uncirculated banknotes. Having collected banknotes during his travels, particularly in Switzerland, he wishes to 'convey messages by bringing art and money together' (Point de Mire, 2014 No. 59). Through his paintings, he brings out the complexity and beauty of the medium, integrating the graphics, transparency and watermarks of banknotes into his work.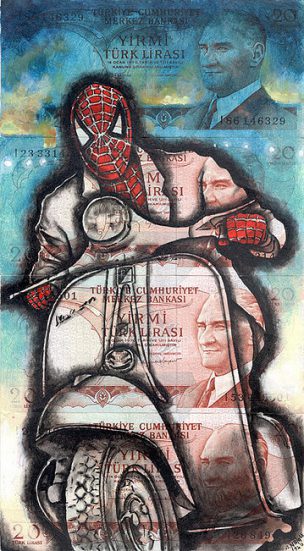 …ATTENTI, STA ARRIVANDO! – 2013
Source: antonionataleartist.com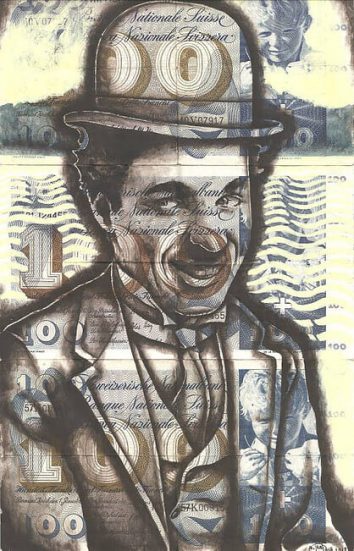 Source: antonionataleartist.com
For him, banknotes are 'a way of travelling, of discovering the world through their stories and the historical charge they carry. They are also witnesses to the lives of the people who used them" (Point de Mire, 2014 n°59). The banknotes therefore no longer represent an economic value, but are transformed into messengers of the past, telling stories of journeys, societies, cultures, and people.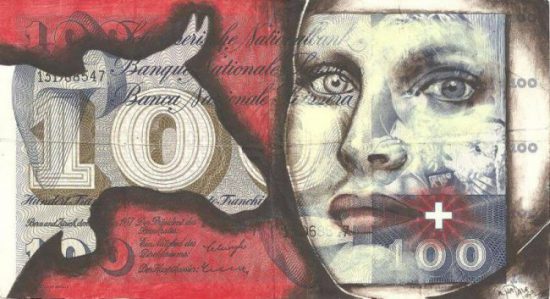 Source: antonionataleartist.com
Source: antonionataleartist.com
We have a common goal with Antonio Natale: to transmit messages by means of money, whether material (Cash register module) or scriptural (ERP, Mobile, Financial project and Reporting modules). These modules support you in managing your company's financial flows and provide you with messages to guide you in making decisions.
« [Les billets] are alive like us, and are also endowed with the 5 senses: the smell of their journey, the touch of their grain, the sight of their images, the sound of their watermarks, and then after selling a work, the taste of the bread purchased. » (Point de Mire, 2014 n°59)
– Antonio Natale
To discover more of Antonio Natale's work, go to the following links: