Swiss business management software
Structurez vos données, allégez le fardeau administratif et gagnez en réactivité grâce à une solution de gestion d'entreprise complète et flexible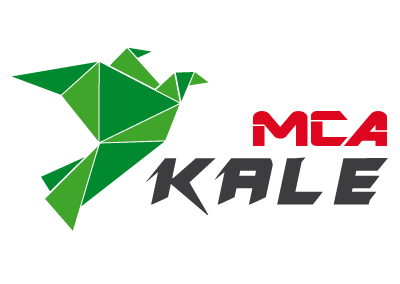 Manage your business with peace of mind
It is difficult to manage projects, resources or budgets without stress or frustration when information is misplaced or disparate and tools are no longer adequate.
Everyone ends up overloaded, reports are incomplete, deadlines are missed and clients are unhappy.
With MCA Kale, the Swiss business management software, your data is collected and structured in one place. You quickly retrieve and analyse the information you need. All your projects are visible in a stable and scalable work tool.
The workload is reduced, data is classified, progress is measurable and deadlines are met.
All the data at your fingertips
Have all information at your disposal in real time, whether it is financial, HR or commercial data (turnover, customer data, prices, staff availability, etc.)
Benefit from decision support for greater responsiveness in your business strategy.
Generate reliable balance sheets, reports and statistics in a few clicks.
More responsiveness
Structure and digitise your administrative, operational, financial and accounting processes.
Automate recurring tasks to reduce the amount of handling and data entry required.
Meet your deadlines by reducing the administrative burden and accurately tracking the progress of ongoing tasks.
Your customisable solution
Work on a tailor-made and agile platform with all the features you need.
Customise these features as your company grows.
Swiss ERP for all your needs
MCA Kale is a comprehensive Swiss business management software. It acts as accounting software as well as billing software or time management software. It allows you to organise your different processes and analyse your needs in real time.
Hosted in the cloud, this SaaS management software integrates both an enterprise resource planning (ERP) system for managing financial flows (sales, purchasing, payroll, etc.) and a CRM system for customer relations.
These management tools help set up smooth workflows across all departments in your company. The dematerialisation of management processes makes it possible to automate them and to centralise the information system.
In other words, you have a structured data source. You can retrieve and process information from your customers, employees, projects or transactions much faster.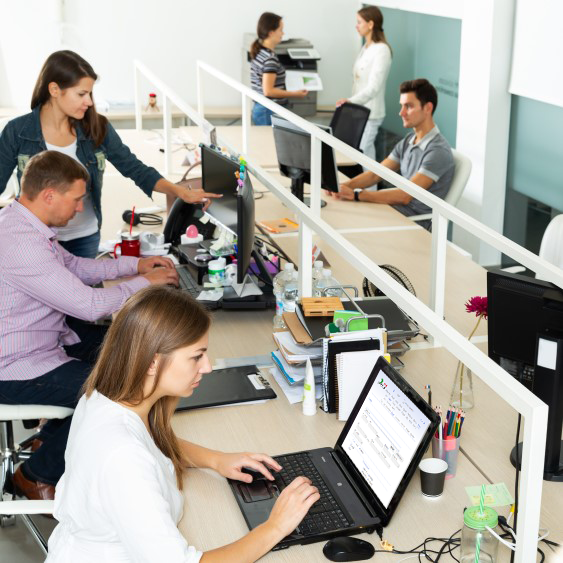 Suitable for all types of businesses
Le solution de gestion d'entreprise MCA Kale s'adresse aussi bien aux grandes entreprises qu'aux PME-PMI.
If you are part of a very small company or are self-employed, you can consult the MCA Colibri solution, more adapted to your type of company.
Simple and clear billing management, you can easily check the status of all payments and automatically turn an estimate into an invoice.
QR / PDF / XLS / Mail
Subscriptions
Advance payments, settlement and deductions
Unpaid reminders
Connected to the client's file
A centralised tool allows you to manage working hours, plan and distribute tasks to employees and process salaries with complete peace of mind.
QR / PDF / XLS / Mail
Subscriptions
Advance payments, settlement and deductions
Unpaid reminders
Connected to the client's file
Every business has specific operational and management processes, and MCA Kale's business software meets all the needs of each industry by providing a precise solution tailored to the type of organisation.
Specific functionalities by trade
Interconnection between ERP-CRM-CMS-Planning
Assistance and support from professional experts.
Complete management of your business
Le logiciel de gestion SaaS MCA Kale regroupe des fonctionnalités incontournables. Accounting and finance, purchasing and sales management, customer relationship management, HR management, analytics, inventory management, project management… everything you need to automate tedious tasks and effectively control every aspect of your business.
A Swiss ERP with advanced features
Easy integration and broad compatibility
Quick and easy addition of modules and services, based on a single database
Extensive interoperability with your third-party applications, your e-commerce tool, different OS (Windows, Mac, Android and Linux) and your third-party machines
Cloud computing and dematerialisation of processes
Access to data anywhere and anytime
Reduced infrastructure costs (IT equipment)
Complies with legislation & regulations
Accounting and management of your operations in accordance with the latest legal standards.
Compliance with ISO 20022, RGPD (General Data Protection Regulation), invoice with QR-Code, etc.
Shared work platform
Synchronisation of documents and data with change history
Different levels of access according to established profiles
Scalability and continuous improvement
New features and regular application enhancements, which support good business practices and improve your operations
New services offered in line with customer needs, market and technology trends
Tailor-made
Customisable and accessible (mobile, tablet, PC/Mac)
Multilingual interface, adaptable to your company's taste and colours (FR, EN, DE, IT)
High security, protection, availability and confidentiality of your data
Backup, access rights, data storage in Switzerland in a secure private cloud is a priority for MCA, bringing you :
Increased confidence of your customers, suppliers and employees
Reputation maintained
A variety of specific modules for your company
Three main blocks form the basis of the Swiss business management software MCA Kale: ERP, CRM and CMS. A multitude of specific modules enrich this database for a complete management.
Together, these modules cover your company's activities, from logistics and human resources to accounting and project management.
MCA Kale is a customizable business management solution, which means that the various existing modules can be added or removed from the software according to the company's specific needs. You therefore benefit from a tailor-made and flexible management solution that can evolve over time.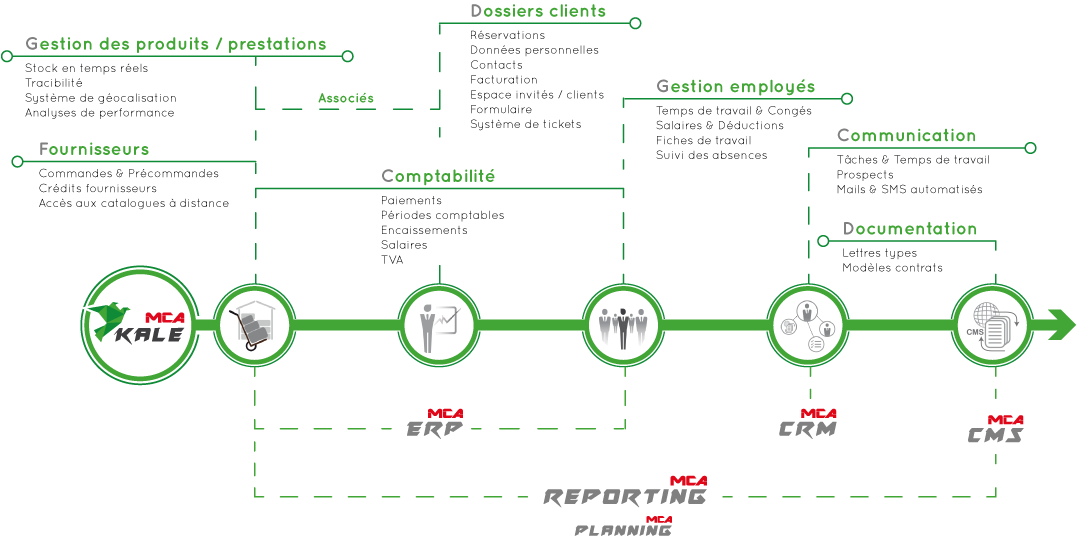 Do you want to simplify your management ?
Receive a personalised offer
Publisher of management solutions since 1996, MCA Concept is an expert in business organisation and software development.
Our team is at your side to implement the management solution that suits you. We deploy the best processes to help you save time and improve performance.
As customer proximity is a priority, we assist you free of charge in your daily management. This can be done by telephone, video conference, e-mail or face to face.
Is the software available as a perpetual license or as a subscription (SaaS mode) ?
Our software is available on a subscription basis only. This model allows you to benefit from regular updates and to change the number of users or features included in the software at any time.
Is there a maximum number of users allowed per subscription ?
No, you can add as many users as you like. In addition, you can change the number of users included in your subscription at any time.
Do I have to pay extra for assistance ?
No, you get free telephone support, whether you have a problem or a question about the software processes. In addition, you have access to online guides that will explain how to perform certain operations within the software. You can also ask for a specific guide to be made available to you.
Is it possible to develop specific features for my company ?
Our solutions are tailor-made which means that our developers can create or modify features and set up specific processes according to your needs.
What exactly is ERP?
ERP software (short for "Enterprise Resource Planning") is used to manage a company's financial flows, incorporating a range of specific management functions. It includes the management of sales, purchases, wages, stocks and accounting.
The main objective of an ERP is to harmonise a company's information system: it centralises all data in a single, shared database.
What exactly is a CRM?
CRM software (short for "Costumer Relationship Management") enables a company to manage its relationships through a set of tools designed to compile, process and analyze information from customers, suppliers or employees.
The main role of a CRM is to manage contacts, track exchanges with these various contacts and monitor customer activities.
To summarize
At MCA Concept, we understand the crucial importance of business management to the success of every organization, from SMEs to large corporations. Our Swiss business management software, MCA Kale, is the essential tool for simplifying accounting, invoicing, project management, resource management and much more.
With MCA Kale, your company can finally get rid of the administrative burden that's holding it back. Your data is centralized, your projects are clearly structured, and your customers benefit from more responsive service. Thanks to our advanced functionalities, you have all the information you need in real time to make informed decisions.
The integration of CRM and ERP in our management software enables you to manage your entire business seamlessly. We also provide you with a customizable solution that can be adapted to the evolution of your business over time.
With MCA Kale, your cash flow is better managed, your invoices are issued with ease, your projects are closely monitored, and your resources are used more efficiently. Our software is designed for both large groups and SMEs, offering a modular solution to meet your specific needs.
Don't hesitate to contact us for a personalized quote and to find out how MCA Kale can revolutionize your online business management. Choose simplified management, choose MCA Kale for a more efficient, responsive company.
Request a quote today and let MCA Kale transform your business management for the better.