The 3 main versions of our software
Our software is very flexible, the different modules that compose it can be activated or not according to the needs of companies, their sizes and their sectors of activity. For this reason, we have diversified our software into three versions.
– Adapted to the needs of artisans or entrepreneurs looking for optimal management, which simplifies recurring processes with automated functionalities.
– Automatic processes save time and provide good visibility.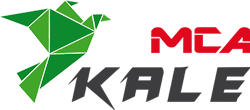 – Ideal for enterprises having well-defined positions with different levels of access according to user roles.
– More advanced modules such as planning and reporting.
We develop for you :
– A more suitable solution for your structure.
– With specific modules for your working environment.– Communication between your software and MCA Kale.
Our software by profession