The QR code (Quick Response Code) is a two-dimensional (2D) barcode, unlike the traditional one-dimensional (1D) barcode.
It was created in 1994 by Masahiro Hara, a Japanese engineer, in order to track the progress of spare parts during manufacture in Toyota's factories.
Released under a free license five years later for use by anyone, the QR code became popular with the arrival of smartphones in the late 2000s.
The QR code can include a lot of information, as it can contain 7089 numeric and 4296 alphanumeric characters, which corresponds to half a page of A4 text. This is in contrast to the barcode that can be found on items in shops, which contains between 10 and 13 characters at most.
Static QR code
Static codes do not allow for the collection of follow-up data and are generally used when the information does not need to be updated. This is because the content of the QR code cannot be changed after it has been designed. As the information contained in the code is fixed, it is mainly suitable for private use to transmit an email address or contact details for example.
Dynamic QR code
Unlike a static QR code, the information in a dynamic QR code can be changed after it is created, even when it is printed. Dynamic code is more secure, as it can be password protected. In addition, it can display statistics on the use of the QR code, including the number of scans, the date of the scan, information on the devices used and geographical information.
The dynamic QR code will be more suitable for companies whose information needs to be updated regularly or as part of a marketing strategy.
Is a QR code reader already integrated in your smartphone ?
To find out if your device has QR code reading functionality, you can test it using the QR code below.
Simply open your camera application and position the camera of your smartphone or tablet on the QR code as if taking a photo.
A notification should appear if your device is able to read the QR code. By clicking on the link that appears on the screen, you will be redirected to our MCA Concept website.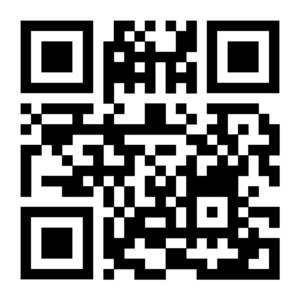 In the event that a code reader is not directly integrated into your smartphone, you can download a free third-party application for iPhone from the Apple store or the Google Play platform for Android.


The QR code may be subject to malicious or fraudulent use.
In order to obtain better protection, to avoid scams, it is essential to scan a QR code with care. Instead of using your phone's camera, it is recommended to download a security application that protects against QR codes containing dangerous links. The Kaspersky QR Code Scanner application for Android or Kaspersky QR Scanner for iPhone, for example, is available to scan QR codes safely. This application warns when a QR code contains a dangerous link or redirects to a malicious site.
What is the purpose of a QR code ?
A QR code can be used to quickly display all kinds of detailed information about a product, a promotion, a company, an event or to display the menu of a restaurant.
Various sectors have already adopted the QR code for several years. It can be found, for example, in the cultural, food, textile and tourism sectors and is used by companies and organisations as well as by private individuals.
On 30 June 2020, the QR-invoice, i.e. an invoice with a QR code containing payment information, was introduced throughout Switzerland to permanently replace the current payment slips.
From 1 October 2022, BV and BVR payment slips can no longer be used to make payments. Invoice processing will be faster and simpler, as it will be sufficient to scan the QR code on the invoice to trigger the payment and then validate the transaction.
In addition, the QR code can appear on different media, such as invoices, product packaging, tickets, on television or even on display devices in a museum.
A number of data can be contained in a QR code, so it is possible to quickly transfer information to the user via a QR code, such as :
– Invoice: contactless payment
– URL: opens a web page in a browser
– vCard: registration of a contact
– Geolocation: shows a location on Google Maps
– Text: displays a static text
– Email: sends an email
– SMS: sends an SMS
– WiFi: connects to a WIFI network
– Bitcoin: makes a crypto-currency transfer
– Social networks: Link to a page, a profile, a publication
– PDF: downloads a PDF file
– MP3: plays an MP3 file
– Application: opens, downloads an application
– Image: displays an image
– Video: plays a video
What is a QR code generator ?
The QR code generator is a tool for creating static or dynamic QR codes. This can be an online platform or an application.
Just go to one of the websites that provide a QR code generator or download an application for this purpose, for iPhone or Android.
All these tools offer to create a static QR code for free.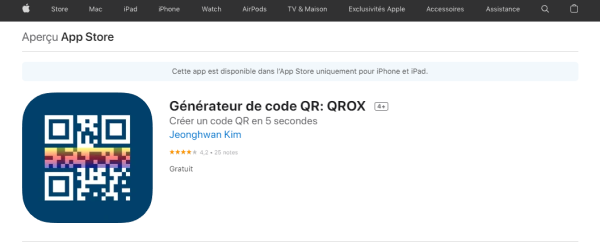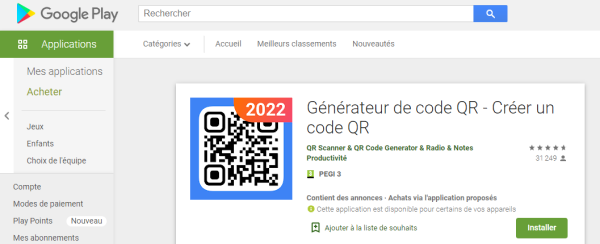 For the creation of a dynamic QR code, which will offer more functionalities as well as tracking statistics, you will have to go to a site such as QR Code Generator which offers paying offers.
Create a QR code in 2 minutes
Once on the dedicated platform, simply select the type of code to be generated, then fill in all the information in the fields and finally generate or download the QR code. The process is very quick and easy and the QR code can be immediately integrated into your website or other promotional or personal material.
What is a QR code generator ?
The QR code generator is a tool for creating static or dynamic QR codes. This can be an online platform or an application.
Simply visit one of the websites that provide a QR code generator or download a QR code application for iPhone or Android.
All these tools offer to create a static QR code for free.
Nowadays, new smartphones are equipped with a QR code scanning function.
QR codes are versatile and can therefore be found everywhere, on all media and are now an integral part of everyday life.
In an increasingly technology and digital oriented society, the QR code is visibly increasing its market share to offer ease and speed through a contactless process.
The QR code is revolutionising consumer usage and will probably be used even more widely in the future to simplify our daily lives.
You're a business leader ? Switch to QR-bill before 30 September 2022.
You work in the museum world ? Launch your own mobile app now to enrich your exhibitions with QR codes and learning paths.