Latest events
In relation to our software, the company or the business news
From now on, MCA Kale and its variants can be interfaced with DMS solutions, thanks to the service providers with whom MCA Concept collaborates. MCA Kale, ERP CRM CMS software and more, already manages the preparation and filing of documents in digital format....
New ambassador at MCA Concept
Apr 8, 2022 MCA Concept announces the arrival of a new collaborator: Pictus joins the team as an MCA Concept ambassador.
Come and discover his career !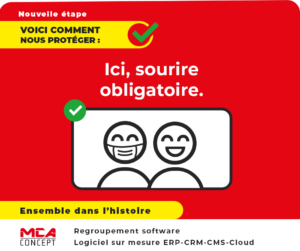 Here, the mask is no longer mandatory
Feb 18, 2022 Almost all anti-covid measures were lifted on Thursday 17 February 2022. It is no longer compulsory to wear a mask at work, in shops, restaurants and other public establishments and the covid pass is disappearing.
A date that will go down in history!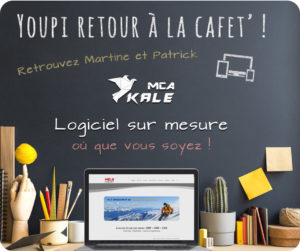 No more teleworking, back to the cafeteria
Feb 11, 2022 On Thursday 3 February, the Federal Council put an end to the teleworking obligation.
An opportunity to meet up with colleagues and take a break in the cafeteria !
From April 1st, all DI providers in the Neuchâtel region will no longer be able to send paper invoices. MCA Kale is certified by MediData to generate e-invoices for DI offices. Electronic invoicing, or e-invoicing, will soon become a federal requirement for all commercial relations.
New application will allow you to manage your expense claims in a simple and organised way during all your travels through all existing platforms (material support). The mobile module allows you to manage your tickets (expense claims) via smartphone in just three...
KALE LCA-590 for Health Complementary Medicine As you know, on 1 January 2018, a new invoicing process will be started on a obligatory basis to ensure transparency and speed in the processing of invoices by the health insurance funds in accordance with standard 590....
Looking for more information about digital technology ?
Receive in your mailbox the current offers, the novelties of our softwares, as well as advices and news about digitalization and business management.